Congratulations on your decision to explore your plastic surgery options!
Through our website, and consultation with Dr. Warner, we want to help you have an exceptional experience. The information in this website will help guide and prepare you so that you can become comfortable with your decisions. The ultimate goal is to make you as comfortable as possible, while balancing the quickest, easiest, and most private recovery. After you have explored the information on this website, we encourage you to make a consultation with Dr. Warner to discuss your specific concerns. During the consultation process, you will also discuss the specific details of any proposed procedure, including recovery and expectations.
The VECTRA XT 3-D Experience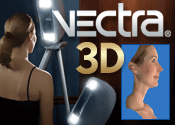 Our new state-of-the-art VECTRA XT 3-D camera will offer you an exceptional consultation experience. You will be able to view different nose shapes using your very own facial images! This breakthrough technology will give you a good idea of what you may look like after surgery and will be included in your consultation. Schedule your consultation experience today at.
Aesthetically speaking, facial appearance is created from many different aesthetic components of the face. The eyes, nose, lips, chin, facial soft tissues, skin, and hair all contribute to one's overall facial appearance. Balancing these components will provide an overall pleasing appearance to the face – an appearance that we refer to as "harmonious." When one of these components stands out from the rest and becomes abnormal, it can change the overall harmony of the face, often causing distress and dissatisfaction. For example, if one's nose is proportionally too big, too crooked, or otherwise unpleasing, it may detract from one's overall facial appearance and appear to stand out.
When this imbalance becomes bothersome to a patient, it is a good time to discuss surgery. The goal of surgery is to restore overall facial harmony by sculpting the facial features to a more pleasing size or shape, giving a natural result. A result that looks overdone, or "surgical," will continue to distract from one's overall facial harmony. Specific ethnic traits should be preserved at the patient's request. The ultimate goal is to achieve a natural and more refreshed or harmonious appearance.
When you have finally decided that you would like to speak to a surgeon, you should expect a thoughtful and thorough discussion. You should arrive at the consultation prepared to discuss your specific concerns related to your facial appearance. It is important that the surgeon understands exactly what is bothering you. He or she will then discuss these issues with you, give you a detailed examination, and provide you with options. A thorough facial evaluation in preparation for surgery may entail your surgeon discussing other areas of your face, not just your expressed concerns. This may be done because overall facial harmony can involve multiple areas of the face, and it is often necessary to discuss the overall balance and how your specific concerns fit into this overall picture. You will also get to know your surgeon during this consultation to make sure you feel comfortable – a process that is very important. You will be given the opportunity to view before and after photos and make sure that all of your questions are answered. A quote will then be prepared and given to you at the end of your consultation so that you will have a good idea how much your procedure will cost. Once you have decided on a surgery date, you will meet with your surgeon a second time prior to surgery to go over your plan again, make sure all of your questions are answered, go over post-operative instruction on care, and sign your consent forms.